microwind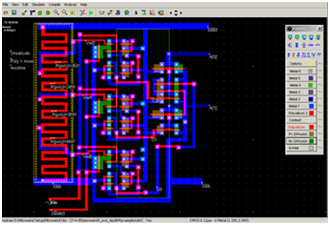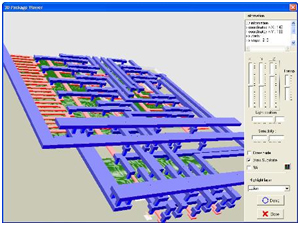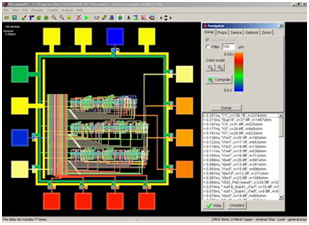 The MICROWIND software allows the designer to simulate and design an integrated circuit at physical description level. Microwind3 unifies schematic entry, pattern based simulator, SPICE extraction of schematic, Verilog extractor, layout compilation, on layout mix-signal circuit simulation, cross sectional & 3D viewer, netlist extraction, BSIM4 tutorial on MOS devices and sign-off correlation to deliver unmatched design performance and designer productivity.

The package contains a library of common logic and analog ICs to view and simulate. Microwind3 includes all the commands for a mask editor as well as, you can gain access to Circuit Simulation by pressing just one single key. The electric extraction of your circuit is automatically performed and the analog simulator produces voltage and current curves immedialyte.

The tool features full editing facilities, various views, and an on-line analog simulator. The MICROWIND software has following segments in it:
DSCH Schematic Editor and Simulator

nanoLambda Precision CMOS Layout tool upto 22 nanometers

VirtualFab Touch the Deep-Sub Micron Technology

PROthumb Mixed Signal Simulation and Analysis

PROtutor MOS characteristic viewer and trainer

MEMsim Non Volatile Floating Gate Memory Simulators
For more information, visit product site www.microwind.net
Note : ni logic pvt. ltd. is authorized all India distributor & promoters from MICROWIND, France.